We found the following Properties matching your search criteria.



3 bed Detached in Carnoët 22160 Côtes d'Armor

€153,700 FAI
Property Ref M742-22
Three-bed stone-built home with spacious gardens set in a tiny rural hamlet with a very large outbuilding / garage. Please contact Phil Veasey: Tel. +33 (0)7 70 36 30 46, EMail: cbp.plelo22@gmail.com.

3 Bedrooms

1 Bathrooms



5 bed Detached in Carnoët 22160 Côtes d'Armor

€143,100 FAI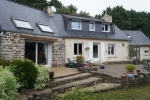 Property Ref M712-22
Pretty 5 Bedroom Detached Property In The Heart Of The Countryside At The End Of A Hamlet With Garage and 7900M² Of Land.

5 Bedrooms

1 Bathrooms